When you fill out your profile, you're asked to enter your "Minimum Expected CTC". This is the lowest CTC that you would be comfortable considering joining a company at.
Employers include an "Indicative CTC" when they send you an interview request. They are blocked from sending you an interview request unless their Indicative CTC is at least as high as your Minimum Expected CTC.
If you enter a very aggressive Minimum Expected CTC you will be limiting the number of companies that reach out to you. The better strategy is to be conservative so that you get the maximum number of interview requests.
We make it clear to employers that your Minimum Expected CTC is a lower bound
Here's what it looks like to an employer when viewing your profile.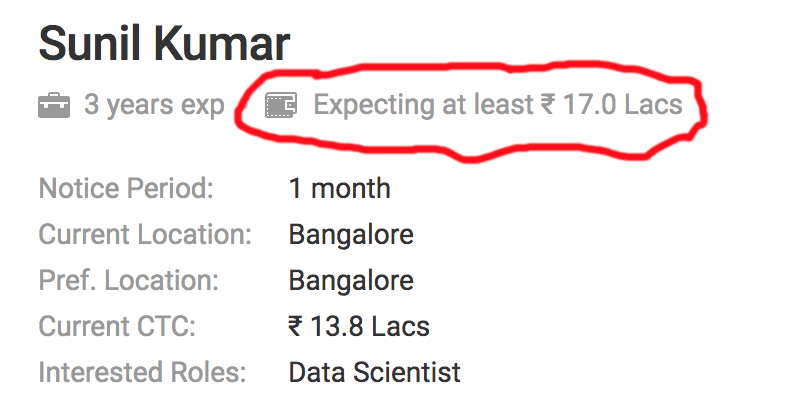 And when sending Sunil Kumar an Interview Request they would see the following if they offered less than 17.0L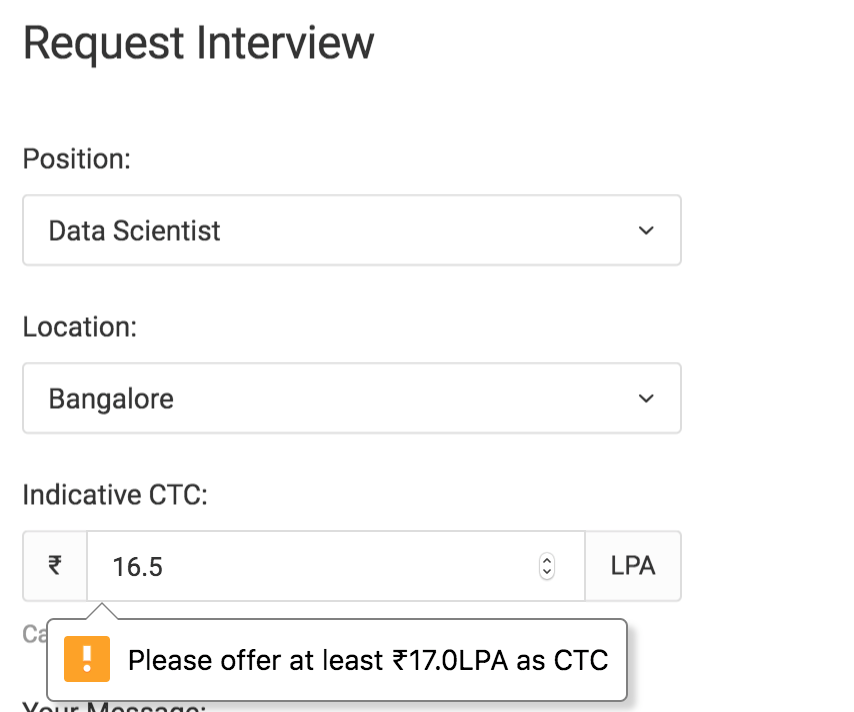 How is "Minimum Expected CTC" different than the "Expected CTC" that I'm usually asked for?
Expected CTC is looked at as an upper bound in a negotiation that works downwards. So you may be in the habit of saying to yourself "I'd be happy with 20L so I will quote 22L as my Expected CTC" with the expectation the company will always offer you something less than your quoted Expected CTC
On TopHire, we don't ask for Expected CTC. We only ask for Minimum Expected CTC.
Companies know that your Minimum Expected CTC is really your minimum. Their final offer (post interviewing you) will not be less than your Minimum Expected CTC, except in very rare circumstances.
You would quote 20L as your Minimum Expected CTC which will help you gain more interview requests, but in the interview process you would make a case for why they should offer you 22L.
What are those rare circumstances when a company's final offer to me is less than what I quoted as a Minimum Expected CTC?
This will not happen very often. But when it does happen it is usually for the following reasons:
Your quoted Current CTC included a large amount of variable / non-base pay. Employers often determine their Indicative Offer by taking your Current CTC and adding a healthy increment to it.
But if you are coming from a company whose base pay is relatively low, this would not be apparent to the employer when they sent you their Indicative Offer.
Later when they learn of the full details of your Current CTC, they might then feel a final offer lower than the Minimum Expected CTC is appropriate especially if they are a company who has a high base pay structure.
You are offered a role that differs from the one that the company initially envisioned for you. For example, you interview for Senior Product Manager but then the company feels you are only a fit for Product Manager
Your profile was unclear or included exaggerations.